Getting the Most out of the Experience Catalog
helpful tips + classroom examples
Whether using it as part of an in-class activity or having your students access Experience Catalog items on their own to enhance their understanding of course topics, these tips should help you make the most our resources and ensure a smooth interaction.
Understanding Types of Experience
Virtual Reality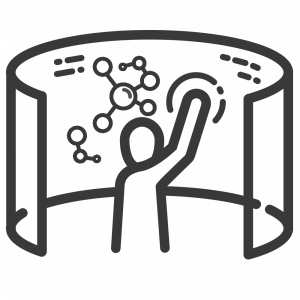 Virtual Reality (VR) takes the viewer inside a wholly created world. This environment may draw directly from or be inspired by experiences in the real world, but does not, by definition, need to do so. A simple VR experience may only place the view inside a constructed space and let them observe. More advanced VR content allows the viewer to interact with and manipulate the environment around them, including some combination of moving objects, talking with simulated characters, building new items in 3D space and much more.
360º Video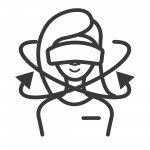 360º video allows the viewer to momentarily enter another space in the real world. At its simplest, it is akin to standing in a spot the creator chose and watching a scene unfold in all directions. The author can direct the viewer's experience by adding additional guidance like text prompts, cuts to new scenes, voiceover narration, audio queues and more. At its most sophisticated, a 360º video could employ question prompts and a logic tree to trigger a series of differing videos, mimicking a choose your own adventure story.
Augmented Reality
Augmented Reality (AR) grafts an added layer of information over the real world. AR experiences vary, but all share the premise that the viewer will use some sort of in-between device to overlay material on the environment around them. Typically, a mobile phone or tablet with rear facing camera is called into service as a window into an AR-enhanced space. Applications of AR can include placing furniture inside one's home, trapping digital monsters in a game scenario, measuring items simply by pointing at their edges and the like.

Decide How Students Participate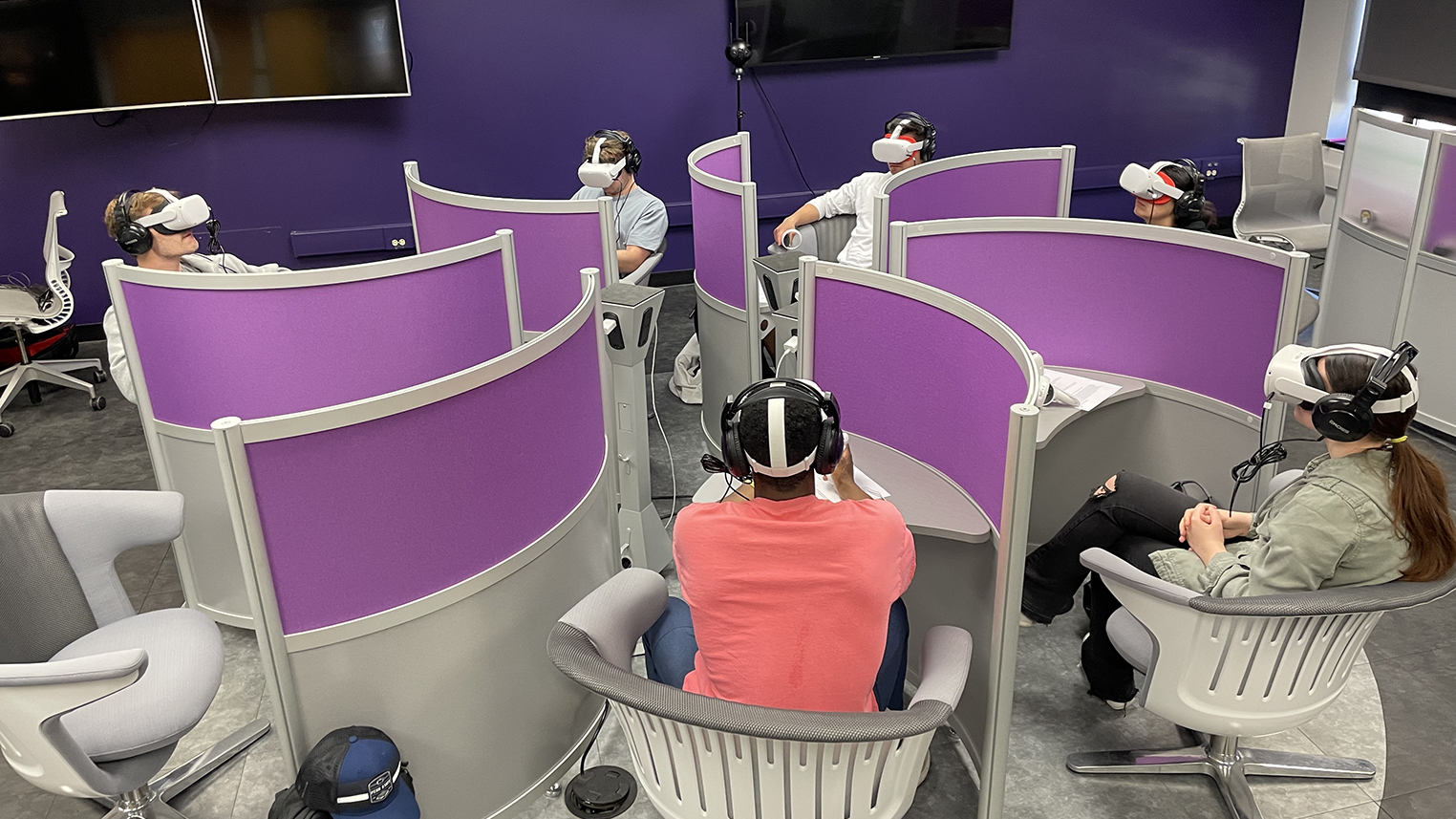 In-Class Viewing Activity
In-Class Interactive Activity
These activities are ususally standing and may also involve movement. They can be conducted in The Dreamery, your classroom or a campus library setting.
Content can include Experience Catalog items preloaded on headsets like Multibrush or Arkio.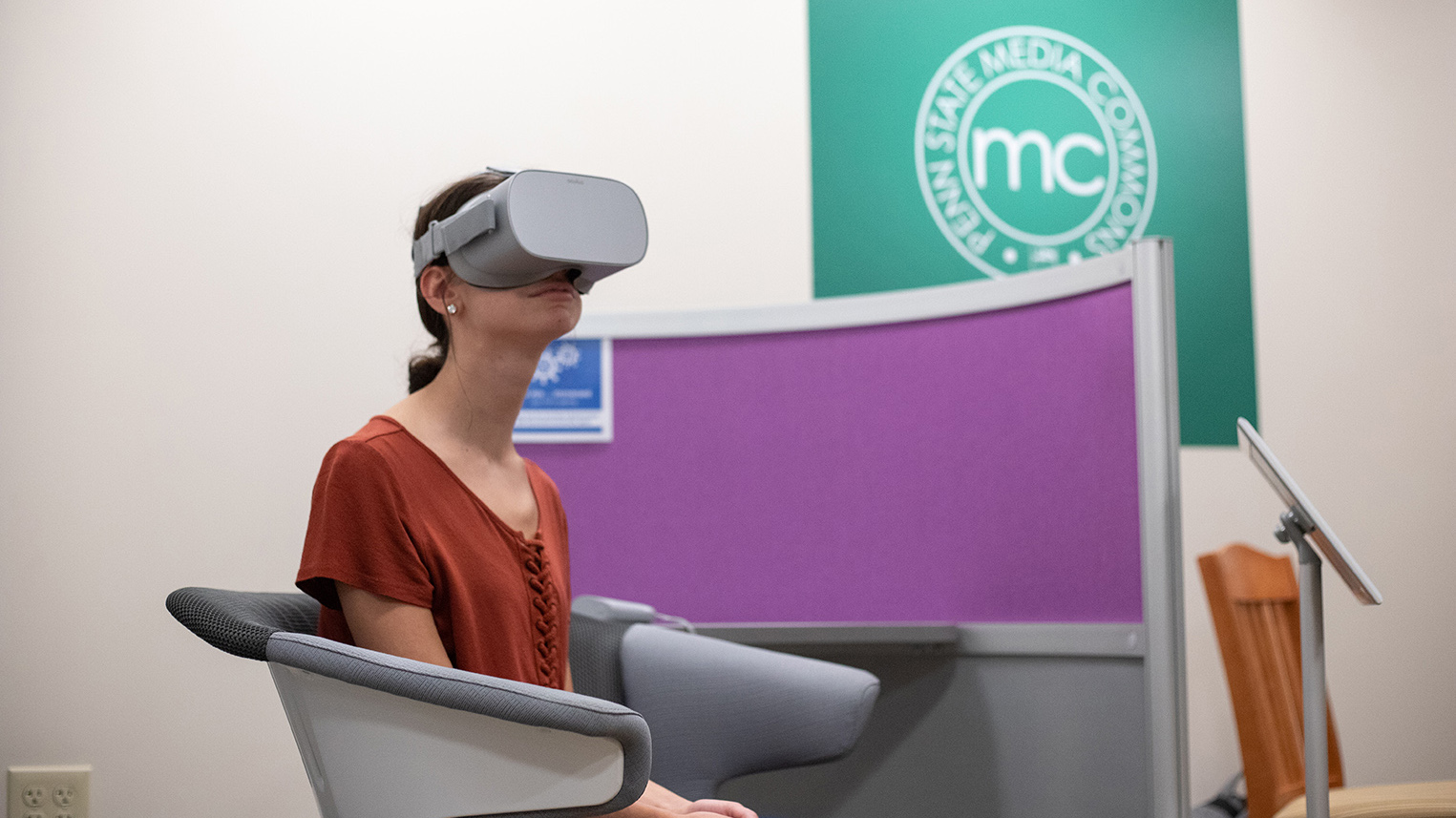 These activities are either seated or standing. They can be conducted in a campus library setting, an IMEX Lab viewing pod or at home.
Content can include Experience Catalog items preloaded on headsets or viewable as playlists via YouTube VR.
Get Familiar with Devices
There are different kinds of headsets available that offer different capabilities and affordances. It's important to note that not all experiences will be compatible with all headsets. Talking with a consultant about your planned activities will help ensure the best experience for students.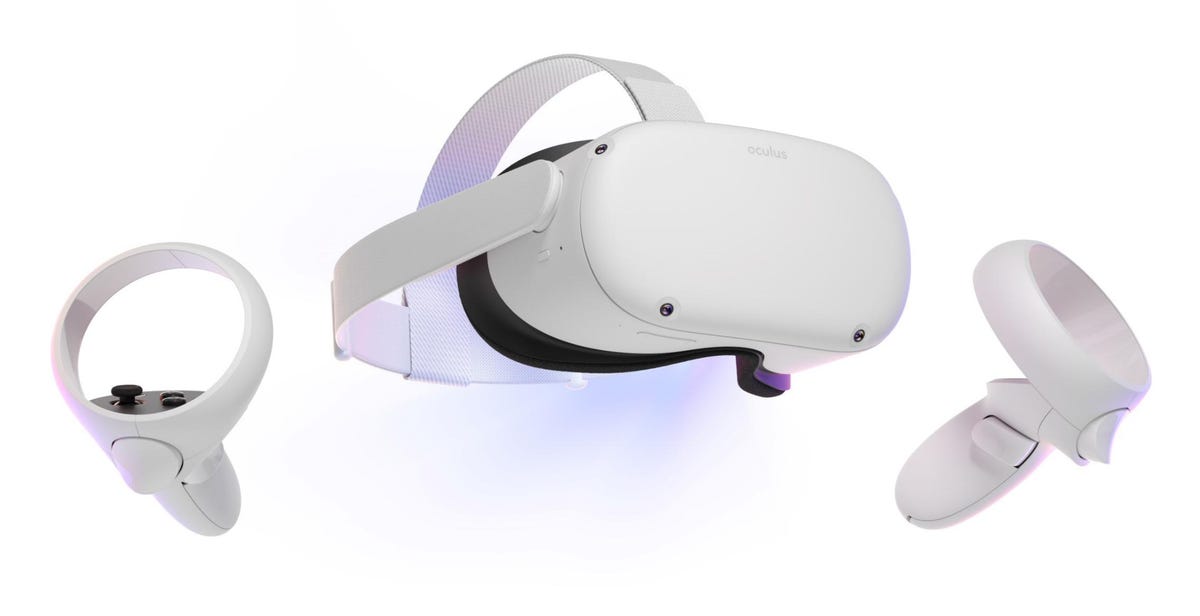 The Meta Quest 2 is a standalone headset with motion tracking and controllers, allowing for seated viewing and standing VR experiences that include movement without the need for a high end PC.
Quest 2 headsets are available at University Park, select campuses and via the Immersive Headset Pilot.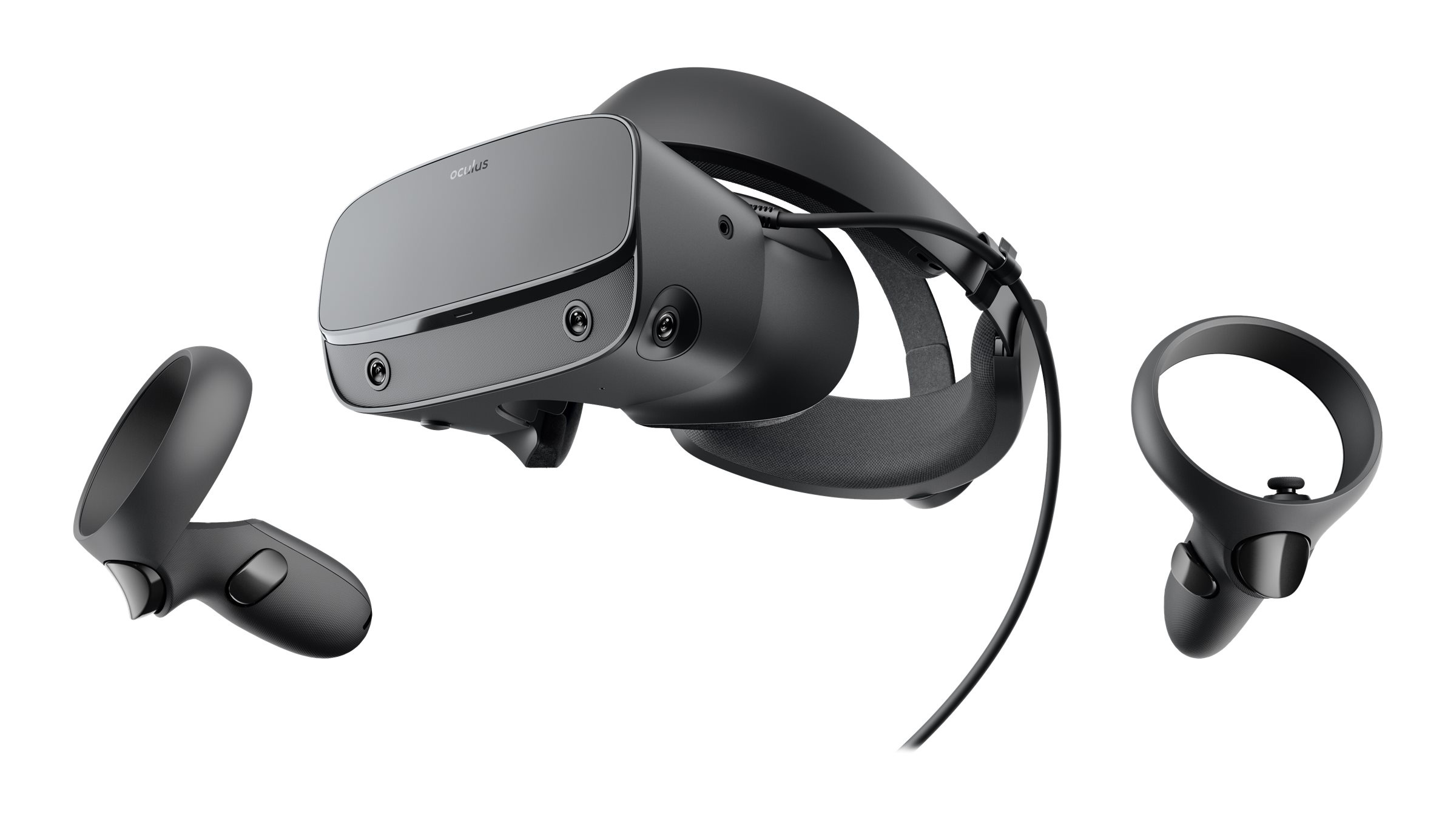 The Meta Rift is a tethered headset with motion tracking and controllers, allowing for seated viewing and standing, high end VR experiences that include movement and fine detail, requiring a high end PC.
Rift headsets are available at University Park in the IMEX Lab and The Dreamery and select campuses in limited quanitities.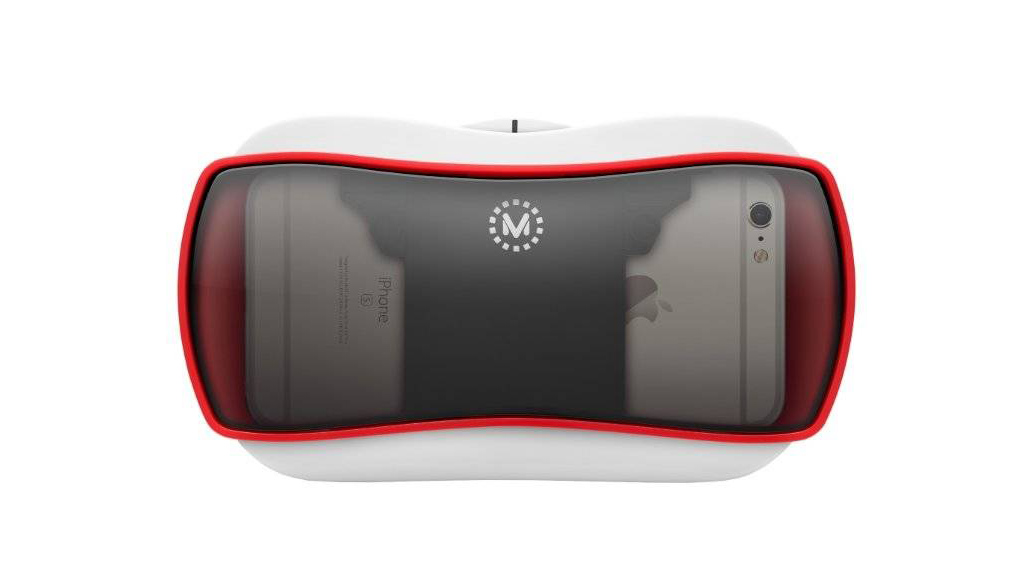 The Google Cardboard is a low end headset standard that includes affordable options from Google, Mattel and many others. Cardboard headsets display content on a user's phone and allow for seated viewing actitivies.
Cardboard headsets are available at select campuses in limited quanitities.
How do devices affect immersion?
Virtual Reality

Many VR experiences are designed in the same way as computer games and, as such can be loaded on a gaming PC or console. Generally, the viewer would manipulate the simulated space using keyboard and mouse/trackpad or a handheld controller. There would be a large amount of variability in audio and video quality based on the device and its accessories.
A standalone headset can also be used to view VR content. The vantage point would follow head movement and basic interaction would be navigated with a handheld controller. Owing to its self-contained nature, the headset would not provide forward/backward or side-to-side motion tracking, etc and A/V quality would be limited by the headset's specifications.
Using a high end PC and advanced headset opens up the possibility for not only far higher quality audio and video but also, through included accessories, motion tracking within the simulated environment. The amount of physical space available would be a constraint, as well as the tactile/haptic feedback when interacting with objects using a handheld controller.
Attaching/augmenting a high end PC and advanced headset with accessories can dramatically increase the sensation of immersion for a viewer. Haptic feedback gloves and other clothing can allow for actually feeling objects and actions within the experience while a VR platform with moving floor or other dedicated spaces allow the viewer to roam freely in-world.
360º Video

360º video can be watched immediately in any web browser that supports the technology (Google Chrome is a good cross-platform option) and the viewer can change their vantage point by using a mouse or trackpad.
A smartphone can also play back 360º content with the added bonus of leveraging the device's accelerometer and other sensors to allow for changing the vantage by simply moving the device in any direction.
There are several options that leverage the low cost Google cardboard headset platform to allow for increasing immersion by inserting a smartphone into a device that splits the image into a stereoscopic view, allowing head movement to trigger the accelerometer in order to change the vantage.
With a fully standalone headset, the phone is removed from the equation, instead allowing video to play back using a built-in stereoscopic display in much higher quality. Immersion is further increased with integrated speakers, adjustable head straps and handheld controllers to manipulate the interface.
The Experience Catalog has a wide variety of 360º video clips as well as VR and AR apps, that have both been chosen by the IMEX Lab team and suggested by faculty across the University.
To get started, select your Discipline and browse the items that are already available – or use the site-wide search to enter keywords. When in doubt, ask a consultant for advice.
When you've found what you to share in class, the IMEX Lab team can help: Whether it be preloading headsets, building YouTube playlists, coordinating paid content and more, consultants can make getting educational materials to your students a seamless experience.
Not seeing what you would like in the Catalog?
If you can't find a 360º video or VR/AR app that suits your course or project, let us know: The IMEX Lab team wants to grow the Experience Catalog based on the community's needs as an item added for one instructor will almost certainly help someone else in the Commonwealth teaching similar courses. Fill out our Experience Suggestion form today.
If you will be bringing your students to the IMEX Lab or The Dreamery – or one of our consultants will be visiting your classroom – please let us know what Experience Catalog items you would like to have the class view. The team will work with you to best organize content for the most impactful class activity as well as to schedule for our earliest availability.
Creating an encompassing assignment that makes use of Experience Catalogue items is a great way to get your class to engage more deeply with immersive content. Get inspired by various ways instructors across the Commonwealth have worked with IMEX Lab to develop their own activities. 
360º Video Viewing Examples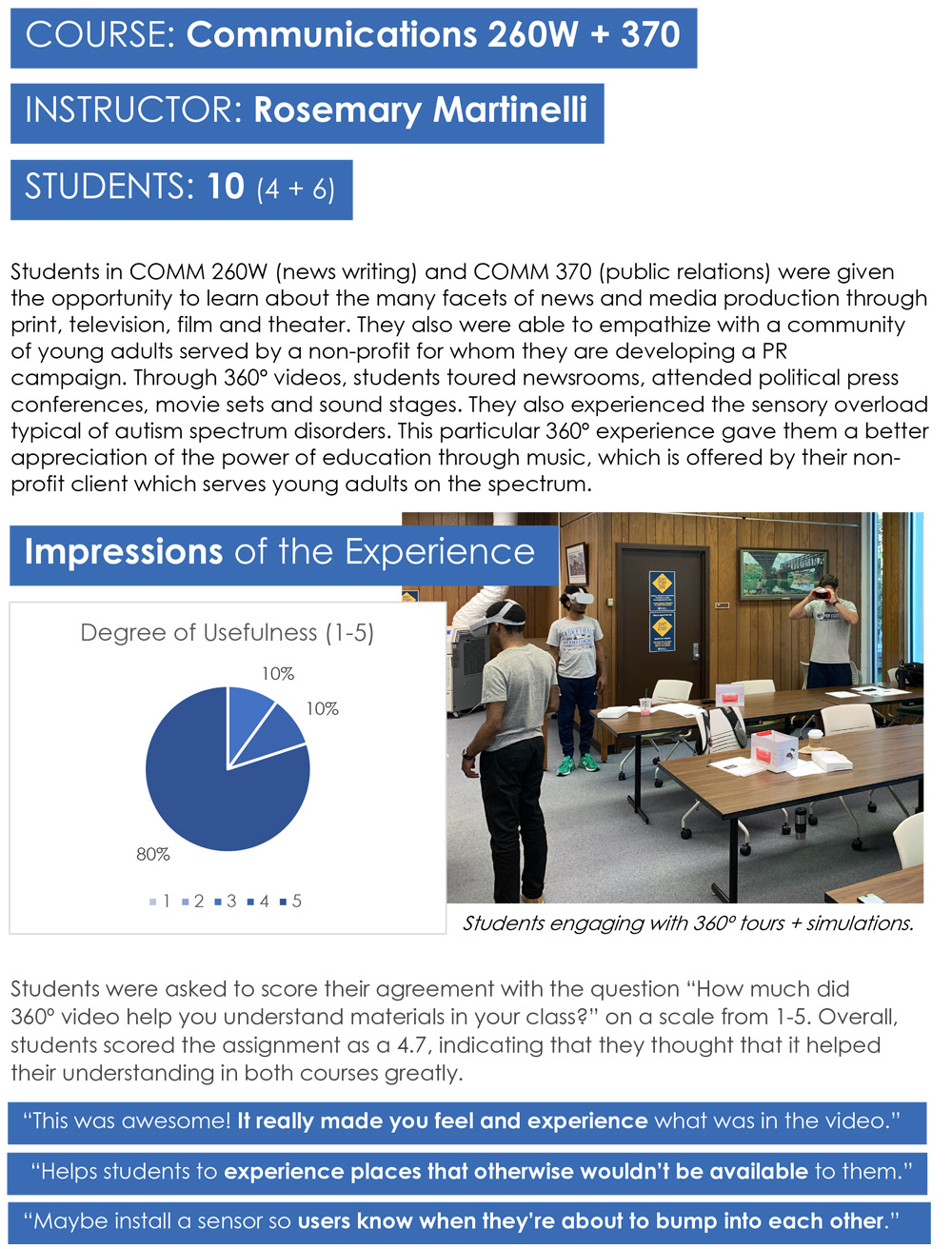 News Tours + Autism Empathy
Description
Students in Rosemary Martinelli's concurrent Communications courses, 260W (Newswriting) and 370 (Public Relations) used 360º video as a means of getting closer to course subject matter. For the news-focused course, tours of broadcast facility, press briefing rooms, film backlots and more provided insider views of how media is made. In the PR class, students working with a non-profit that provides services to young adults on the Autism spectrum leveraged simulations to better understand the experience typical of someone with the disorder. This opportunity for empathy will help inform their understanding of the community served by their client while they create a PR strategy.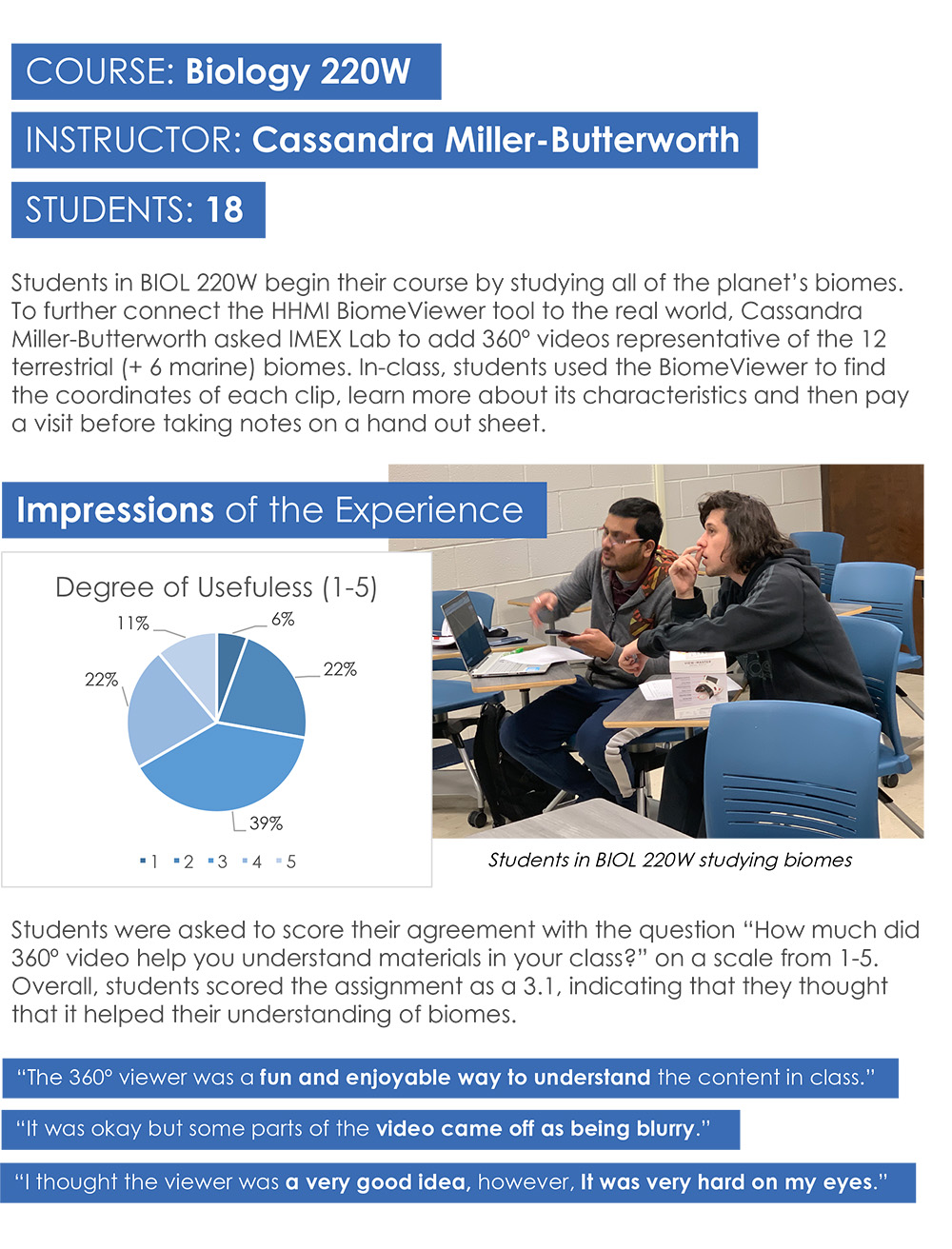 Understanding Global Biomes
Description
Students in BIOL 220W begin their course by studying all of the planet's biomes. To further connect the HHMI BiomeViewer tool to the real world, Cassandra Miller-Butterworth asked IMEX Lab to add 360º videos representative of the 12 terrestrial (+ 6 marine) biomes. In-class, students used the BiomeViewer to find the coordinates of each clip, learn more about its characteristics and then pay a visit before taking notes on a hand out sheet.
20th Century America Field Trip
Description
Students in AFAM 409 were given the opportunity to explore significant moments in 20th Century American history through 360º video clips. During class, students gathered at the Library where they worked in pairs of two to select 3 videos from the 12 clips (6 suggested by their instructor) in the Experience Catalogue that related to class, then write a short reflection for each.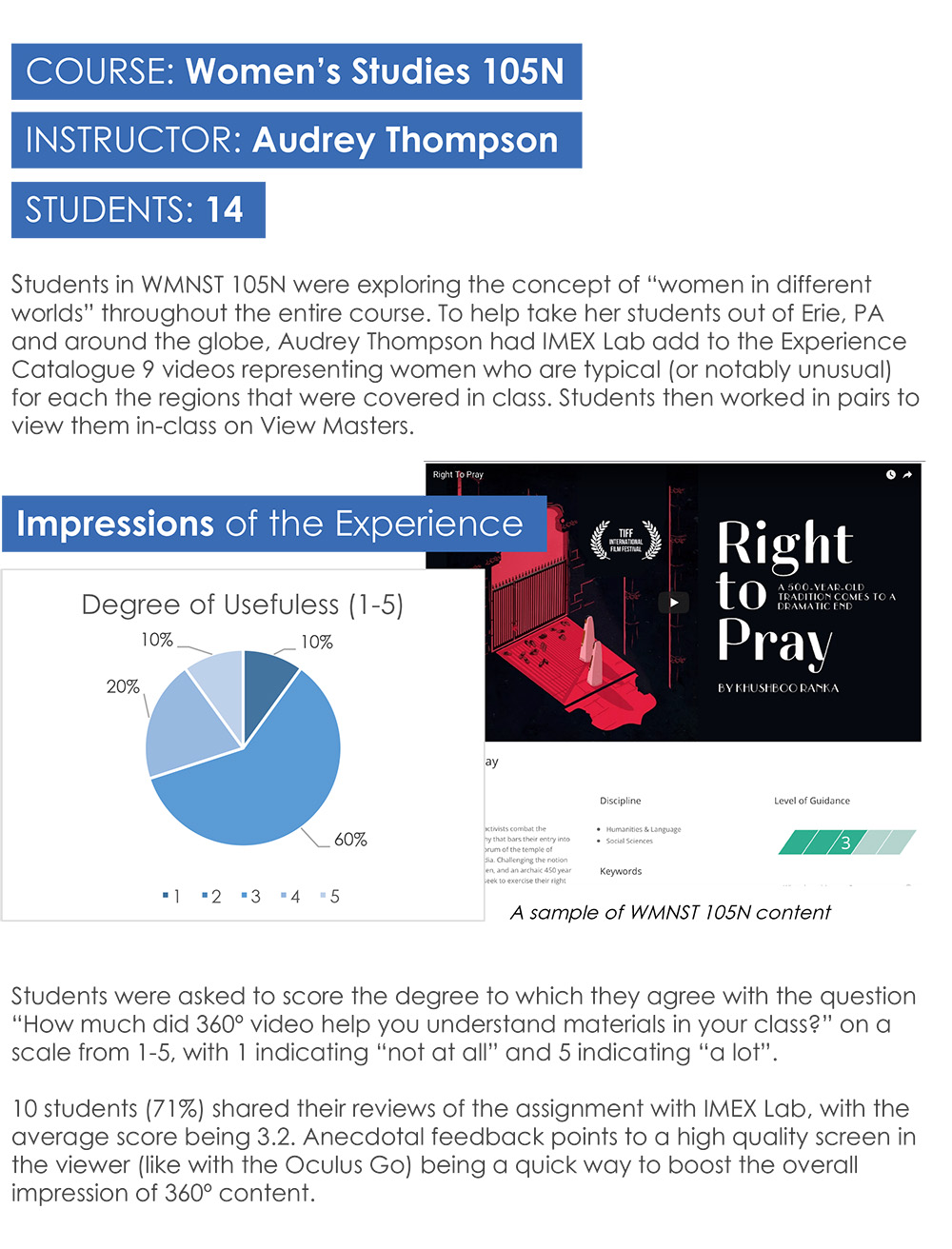 Women in Different Worlds
Description
Students in WMNST 105N were exploring the concept of "women in different worlds" throughout the entire course. To help take her students out of Erie, PA and around the globe, Audrey Thompson had IMEX Lab add to the Experience Catalogue 9 videos representing women who are typical (or notably unusual) for each the regions that were covered in class. Students then worked in pairs to view them in-class on View Masters.

Let's use immersive technologies to get out of the same four walls and explore the world around us.
IMEX[cursions] aim to do just that: By leveraging 360º Video, Augmented Reality and Virtual Reality, each field trip will take viewers to the far corners of the globe, allowing for up-close and hands-on discovery of other cultures – their historical landmarks, cultural traditions, favorite cuisines and much more.
Take IMEX[cursions] to your class. 🍏
Are you an instructor looking to bring one of the IMEX[cursion] experiences into your classroom? Our sample assignment, broadly centered on any IMEX[cursion], presents useful ideas for structuring in-or-out of class activities that can be completed by students working in a variety of instructional modalities.
Sharing Feedback
If you have used the Experience Catalog in or out of the classroom with your students, we would love to hear from you (and them). We will be continually improving our resources for supporting immersive content in teaching and learning and your feedback goes a long way towards that goal. At the end of an activity, please feel free to have your students fill out our Experience Catalog Feedback form.
Share Your Thoughts with IMEX Lab