From the director of Madagascar comes Invasion!, a colorful VR animated short about a duo of aliens with grand ambitions to take over our world and destroy anyone who tries to stop them. Instead, they are greeted by the cutest and cuddliest animals on the planet – two adorable, white bunnies….and you are one of them! Come experience what happens! Be sure to look down to see your bunny body!
As one of the first big VR short films, Invasion is a great introduction to virtual reality as a story telling medium.
Arts (Visual & Performing)
animation, art, film, narrative, short story, storytelling

What does this mean?
The
Level of Interactivity
 indicates how many interactive features an experience has.
For instance, a Level 1 would be a more passive experience where you will be able to look around freely, but you will not be triggering or interacting with things in the environment.  A Level 2 will provide some level of interactivity but only very basically, such as being able to move between different scenes in the experience. A Level 3 will start to incorporate some more complex interactions using a remote or controller to trigger things within the scenes. A Level 4 would be a fully interactive experience but something you are still guided through. Finally, a Level 5 would be a fully interactive experience that gives you complete control of how to use it.
Oculus Quest
Oculus Rift
HTC Vive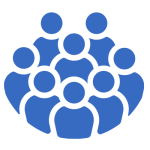 Class Scale Use (≈24)