From Emmy Award winning Oculus Story Studio comes Dear Angelica, a journey through the magical and dreamlike ways we remember our loved ones. Entirely painted by hand inside of VR, Dear Angelica plays out in a series of memories that unfold around you. An immersive, illustrative short story starring Geena Davis and Mae Whitman.
You will be fully immersed in these beautiful paintings as this story unfolds around you. Make sure you look all around you so you don't miss anything!
Arts (Visual & Performing)
animation, art, film, narrative, painting, short story, storytelling

What does this mean?
The
Level of Interactivity
 indicates how many interactive features an experience has.
For instance, a Level 1 would be a more passive experience where you will be able to look around freely, but you will not be triggering or interacting with things in the environment.  A Level 2 will provide some level of interactivity but only very basically, such as being able to move between different scenes in the experience. A Level 3 will start to incorporate some more complex interactions using a remote or controller to trigger things within the scenes. A Level 4 would be a fully interactive experience but something you are still guided through. Finally, a Level 5 would be a fully interactive experience that gives you complete control of how to use it.
Oculus Quest
Oculus Go
Oculus Rift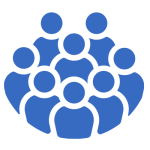 Class Scale Use (≈24)