New virtual reality lab allows Altoona students to 'travel' around the world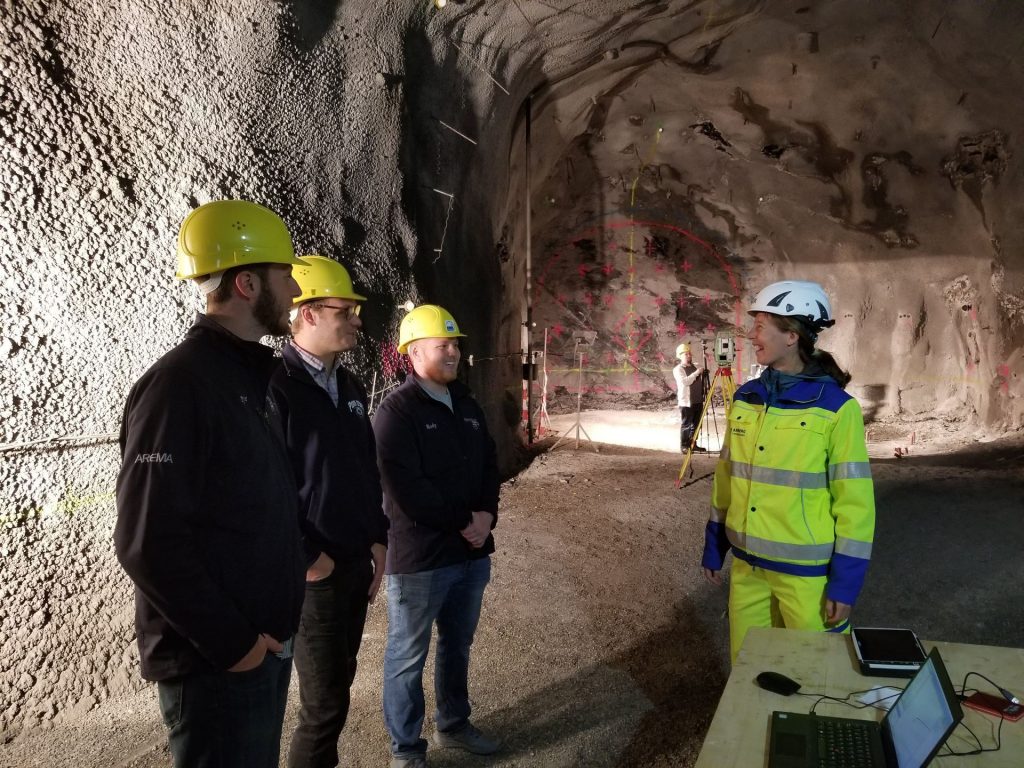 Seniors Tyler Talarico-Yunker and Dakota Kistler, along with campus instructional designer Joe Scott, speak with Alzbeta Prokopova, an application and support engineer at Amberg Technologies. Shown is part of the Hagerbach Test Gallery in Flums, Switzerland, one of several locations where the students captured 360-degree video.
Thanks to a new virtual reality initiative at Penn State Altoona, recent graduates in the rail transportation engineering (RTE) program have traveled to Europe to create immersive learning experiences for future students.
During the spring 2018 semester, Bryan Schlake, instructor in RTE, paved the way for this and future interdisciplinary opportunities at the Altoona campus through the creation of a new virtual reality learning lab. In that time, he instructed students on how to use the 360-degree camera equipment to capture footage, and he tested virtual reality headsets that would complete the lab in the fall. To help kickstart the lab, the campus was awarded a $15,000 grant from the National Railroad Construction and Maintenance Association.
"I have a friend from Eastern Kentucky University who always used to say, 'Never tell a person what you can show a person,'" Schlake said. "A lot of students are visual learners, and they can read in a book about what catenary wire looks like — which is the power lines that power electric trains — but for them to actually see it, see what it looks like, see how it's put together, it does a lot more than what I could do trying to explain it. Or for them to see how a station is set up, for them to actually enter that environment virtually, they are able to see the future that they will be designing."
Schlake, along with Joe Scott, an instructional designer at the Altoona campus, and a group of students from the RTE program, recorded 360-degree video at various railroad locations in Germany, Switzerland, and Austria. Schlake said they collected videos of the trains, railroads, yards, terminals, and even footage from the operator's cab on several trains. The trip was sponsored in part by Leica Geosystems, of which Schlake said him, Scott, and the students were extremely grateful for the support.
Originally published in Penn State News